Portable charging cases are a great solution for transporting and storing multiple devices, such as tablets and laptops.
At Parotec, we offer off-the-shelf and create bespoke solutions for your charging needs, no matter how many devices you have.
Speak to one of our experts today
What are portable charging cases?
Portable charging cases are an all in one solution, allowing you to charge your devices whilst you're on the go.
They allow you to sync, store and transport a variety of devices, which makes them ideal for those who need to use their devices multiple times a day in different locations.
Charging cases are great for safely storing your devices, then charging them when not in transit and at your destination.
What devices can you put in a portable charging case?
Portable charging cases can fit a variety of different USB-chargeable devices, such as:
Cameras
GoPros
Tablets
Smartphones
POS Devices
Hand Scanners
Cases can also be made to charge Apple devices, like iPads and iPhones.
How many devices can you have in a portable charging case?
There are a variety of different size charging cases, allowing you to charge a number of devices at the same time.
Cases typically range in size, holding up to 32 phones and tablets, with some cases having additional room for other, larger devices like cameras.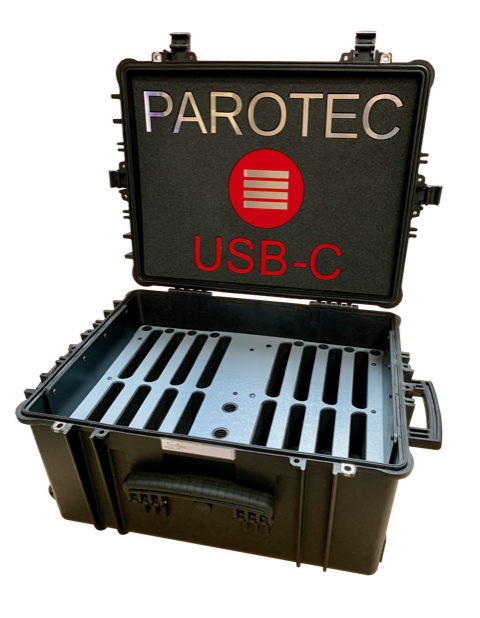 Key features of charging cases
Protection
One of the most basic key features of charging cases is that they will protect your devices from scratches and impact, keeping them safe while they are being charged.
Charging cases are made from high quality, durable plastics which are shockproof to provide maximum protection.
Built in fans also mean that they can be charged with the case lid closed and locked for security.
Multiple devices
With portable charging cases, you can charge multiple different devices at one time in a singular, easy to use carry case. Different devices can be charged due to the surface-mounted USB connector, allowing any type of USB Charger to be connected.
This negates the need to carry multiple different chargers, which would take up room that could be used for other, more important items.
Easy to transport
Thanks to the clever design, charging cases can be incredibly easy to transport.
Units come with wheels and an extendable handle, making moving from location to location incredibly easy.
Which industries would benefit from portable charging cases?
There are many industries which would benefit from portable charging cases, especially those which require constant use of devices, such as:
Healthcare
Education
Corporate settings
Museums
Field Trips
Training Organisations
Speak to one of our experts today