Custom foam inserts can be designed and manufactured for any of our cases or a bespoke enclosure of your choice.
Our case inserts offer ultimate protection and excellent presentation for all your items which makes them great for organisation.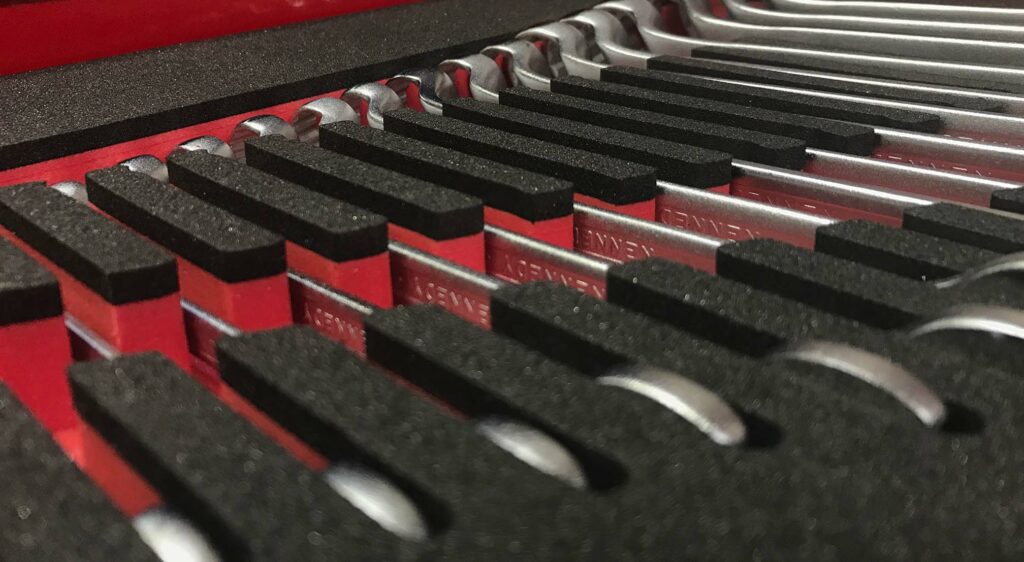 What are foam case inserts used for?
With over 30 years of experience in designing custom foam for tool control inserts and presentation cases for a variety of industries, we can provide a service that offers complete protection and bespoke presentation for all your case requirements.
Our wide variety of cases cater for all kinds of clients and projects; from small and compact to heavy duty and waterproof, you can be assured that there's a suitable case available for you. Foam Case Inserts:
Provide precise, secure protection for goods
Display company colours, branding and important information
Make keeping track of items easier and simpler
Speak to one of our experts today
What cases can I have custom foam inserts for?
We can create custom foam case inserts for all types of cases. We can ensure that the inserts fit perfectly, moulded around your products to ensure ultimate product protection.
We create custom cut inserts for item cases and storage, such as:
Tool cases
Camera cases
Flight cases
All branded cases, such as Explorer Cases, Consort Cases and Raaco Storage
Tool cabinets
Charging trolleys
Medical kits and grab bags
Lineside Tool Stations
What colour foam inserts are available?
Parotec have an extensive range of foam colours available for you to choose from. Whether you want sleek and subtle black or bold, bright orange, we can ensure that your tools are protected in a case that suits your brand and meets requirements.
Two-tone foam case inserts:
Our two tone foam inserts are great for businesses who need to keep track of their goods and clearly see when certain items are in use or missing.
We often create two-tone inserts for tool cases – by utilising this unique design, it's clear to see when there's a tool in use as the bottom layer of foam will differ in colour from the top. This increases item security as cases can clearly and easily be checked for contents at the end of the day.
Foam case insert customisation
You can have your cases customised in many ways. We offer:
Screen printing: We can produce high-quality, branded cases with your company logo on the case exterior.
Laser Facilities: We can also customise the foam inserts with our laser technology, allowing you to add your company logo, design or data to your case insert.
Foam Engineering: Our foam engineering services allow precise and detailed custom foam cutting through a variety of complex methods.
Why should I get custom foam inserts?
Our custom foam case inserts are widely versatile and provide ultimate protection to almost any product you wish to keep secure.
Our high quality, precisely-cut foam paired with our rugged, secure cases create the ultimate protective case for your valuable and expensive products.
If you want to keep items safe and present goods in a sleek, branded casing, Parotec is the right choice for you. Get in touch today by filling out the below form to see what we can offer you.