Laser Cutting Services and Screen Printing for those looking to produce new designs or enhance existing ones. With over 30 years of experience, our Laser Cutting service is renowned for speed of service and reliability.
Speak to one of our experts today
Laser Services – Engraving and Cutting
Parotec can take your designs, CAD files and drawings and turn them into reality, using our top of the range laser facilities. We can cut acrylic, plywood, MDF, fabrics, rubber plus many more materials and can engrave an array of materials.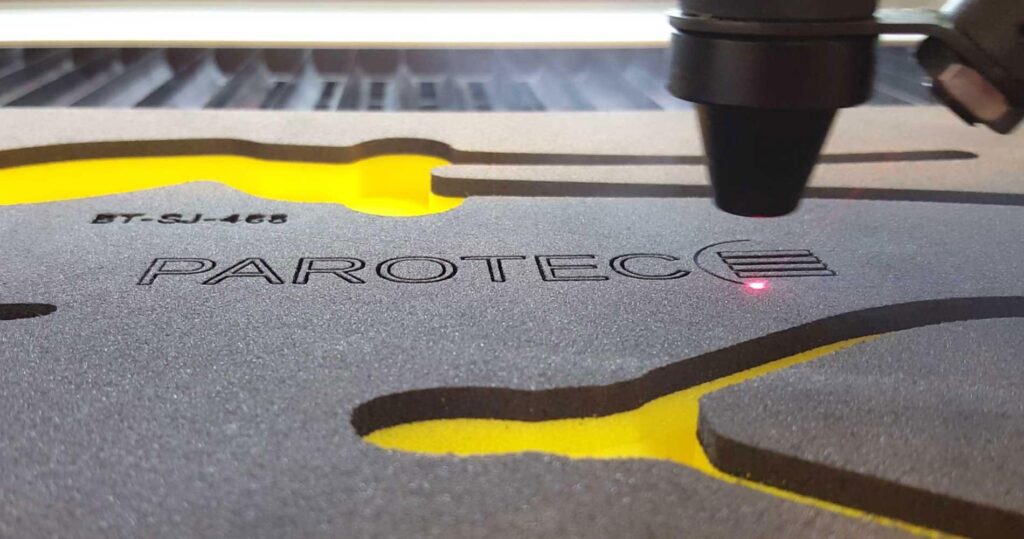 Screen Printing
Parotec can also apply your brand, logos or information on to a range of cases using screen printing. The ink is applied directly to the surface, leaving a high quality finish that looks the part.
We are committed to producing quality products with a high standard of service and workmanship to international clientele.
In-Mould Labelling (IML) – WAG Cases Only
In-Mould Labelling (IML) – the communication of your advertising and brand message in photographic quality totally according to your requirements.
The recyclable material polypropylene (PP) we use is completely environmentally friendly.
It is also surprisingly affordable even at low quantities because of economic integration within the production process.
The material also has high protection against UV and abrasion moisture and temperature resistant which makes it durable and long-lasting.
We use IML decoration technology for a large range of case models in the WAG range.
For more information on our services, then please get in touch below.
What we offer at Parotec solutions
Laser Engraving – Engrave Foam, Plastics and Wood
Laser Cutting – Cut acrylic, plywood, MDF, fabrics, rubber and many more
Screen Printing and IML – Customise your enclosures with your designs.