At Parotec, we can provide an extensive array of foam engineering services to cut foam to the shape, size and style you need.
To protect your equipment in a perfectly designed, bespoke fitting foam, you'll need our expert cutting services to ensure complete satisfaction.
For custom foam inserts that fit any case you need, utilise our detailed cutting services for accurate foam cut to size.
Speak to one of our experts today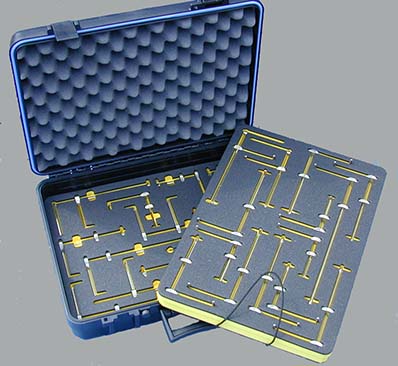 Foam Cutting Services We Offer
Our foam cutting services include a range of techniques and technologies that allow complex and intricate cuttings to be made into our foam.
Our foam engineering facilities include:
CNC Routing: Promotes precision, speed and repeatability when cutting foam to size.
Die Cutting: Quick and efficient bulk foam cutting.
Water Jet: High pressure accuracy.
Foam Design System: Cutting-edge technology to configure intricate foam designs with an accurate quote.
Specialist Foam Cut to Size
Our foam cutting services aren't as simple as cutting shapes out of foam boards. Every piece we cut is perfectly precise, cut based on clients' exact specifications and measurements and finished to a high standard.
Our foam is heat gunned at the end of the cutting process – this allows for a smooth finish and cleaner look.
From here, we can add optional extras to further personalise your foam inserts. These modifications can include:
Adding plastic tags to the foam, labelling certain tools, a brand or industry.
Brand names or logos etched onto the foam as a part of our laser cutting services.
Part numbers etched onto the tools themselves and then referenced in the foam to help with organisation and traceability. This is a great way to keep on top of crucial tool control within a business.
Custom foam cutting
Custom foam cutting is simple with Parotec. Let us know your design ideas and specifications and we can recreate your vision in custom foam.
Get in touch with us today to discuss your foam cutting requirements and we'll recommend the best service.