When it's important to keep laptops, tablets and other devices charged, safe and synced, portable charging carts, trolleys and charging stations can be the perfect solutions.
At Parotec, we can provide charging carts, trolleys and stations which are ideal for your business's needs.
Speak to one of our experts today
What are charging carts?
Charging carts are used as storage and charging solutions for devices like laptops, phones and tablets. They come in a variety of different sizes, making them ideal for a range of industries.
Portable charging carts not only let you store multiple devices safely, but they also allow you to transport them easily from room to room.
What are charging stations?
Charging stations are a fixed piece of equipment that allow you to charge multiple devices at once. They are usually mounted to walls or desks for easy access.
These can also be built bespoke, depending on the type of case the device has to autodock into the station, without the need for plugging each individual device in manually.
Charging stations are durable, secure and are great for businesses and organisations who would benefit from cable management.
What types of charging trolleys are there?
There are a variety of different charging trolleys available on the market, meaning that you will always be able to find the perfect solution for your charging needs.
Trolleys come in a range of different sizes, from smaller and shorter ones which fit up to 16 devices, to taller towers which fit up to 40 devices within one compact unit.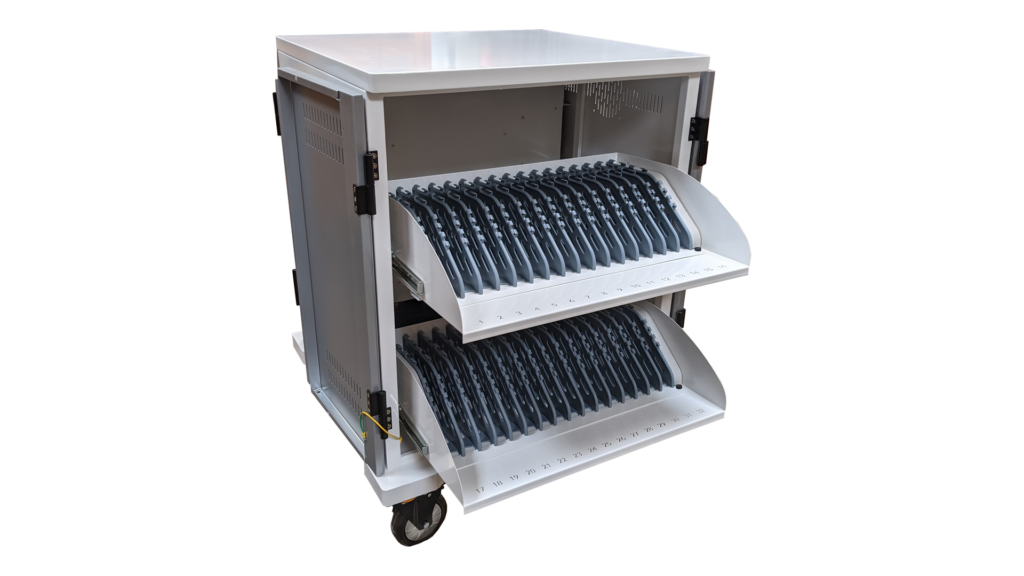 Key features of portable charging carts
These key features are what make charging carts efficient and versatile tools for everyday use:
Cable Management: Built in cable management encourages a clutter free organisation by keeping cables and cords tangle-free.
Charging Zones: Dual charging zones can help to prevent power overloads, thanks to the built-in timers that alternate between zones hourly.
Handles: When you want to move your cart, many of them make this possible through sturdy wide-grip handles.
Removable Shelf Dividers: Removable or adjustable dividers allow you to customise the interior space to accommodate larger devices, such as older laptops.
Security Locks: To deter theft of devices, charging carts can have lockable doors, and all of our carts can be padlocked.
How to find the right charging solution for your devices
Which charging solution is best for you depends on
The number of devices you have, and;
How much space you need for storage.
Depending on these factors, you can choose between trolleys or wheeled carts, handheld cases or mounted charging stations.
At Parotec Solutions, we pride ourselves on always providing the best advice based on your space and needs. We can assess your business's needs and build out a bespoke charging solution.
What devices can you charge in a portable charging cart?
Portable charging carts are designed for a number of different devices, especially for those which are used in the healthcare, education, museum, hospitality, retail and hotel sectors.
Common devices used in portable charging carts include:
Chromebooks
Laptops
Tablets and iPads
Mobile Phones
Speak to one of our experts today